Guide to Hire a Conference Room in Costa del Este
The benefits of face-to-face networking at meetings, functions and other business events should not be underestimated. Successful meetings create a sense of camaraderie, foster collaboration, win new customers, close deals, develop high-performing talent and serve as great education platforms. In comparison to conference calls, traditional meetings in rooms are generally shorter and have higher levels of engagement.
What To Pay Attention to Before Booking a Meeting Venue?
There are many items to consider when booking a meeting room venue:
Consider your budget and how the venue prices its space (is it by the hour, by day, or maybe by session).
The convenience of the location (distance to the airport, public transport connections, parking facilities, disabled access) and the capacity.
Consider the type of meeting space that will best suit your event.
Decide which meeting facilities you will require. Depending on what you want, check with your venue manager if they have video conferencing equipment, computers, Wi-Fi, microphones, projectors, flipcharts, space for exhibits, or kitchen facilities.
Consider the time of your event (day, evening, weekend), how long you'll have access to the venue before your meeting is scheduled.
Think through any cancellation policies alongside your catering needs and whether the meeting venue can cater to special dietary requirements.
Is the venue eco-friendly with items like recycled paper, etc.
Can the venue handle themed meetings?
Are Hybrid meetings possible using virtual conference apps which allow meetings with web-based audience participation and/or virtual attendance?
Is it possible to have a meeting with a view which helps people experience an enhanced feeling of empowerment, confidence, and desire to take risks.
In our conference room in Costa del Este we can help you plan an unforgettable event, you can make your reservation for free and include all the details you need.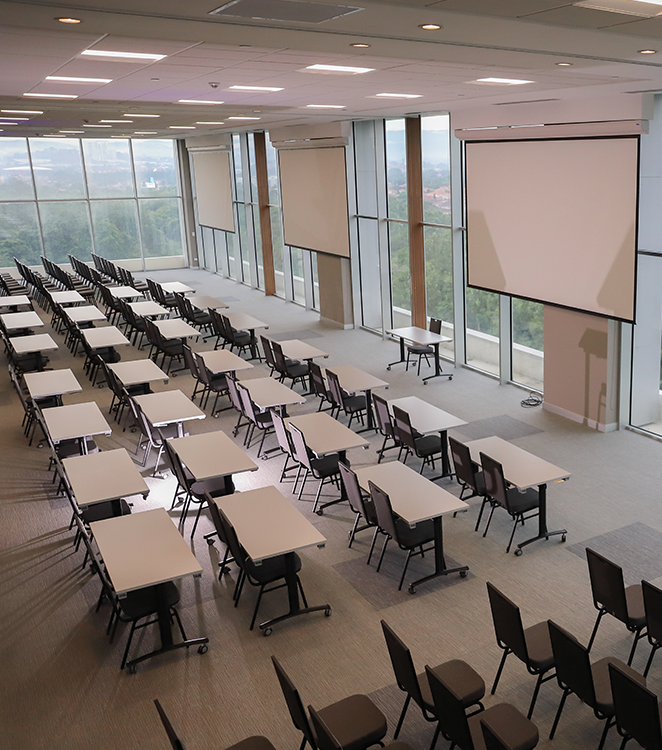 Conference Room in Costa del Este Features
Created with an innovative mindset to revolutionize the real estate market in Panama, with wide and open spaces, natural light and energy efficiency, Dream Plaza is at the cutting-edge of today's market for work and retail spaces.
The entire building is illuminated with LED technology, which has numerous advantages for users, such as less environmental pollution, longer lifespan and an 85% energy savings compared with conventional lighting.
Dream Plaza has high-efficiency chillers that guarantee proper climate control of spaces, thanks to backup support.
The parking deck includes more than 1,000 parking spots
About Dream Plaza
Dream Plaza is a multiuse commercial Plaza, one-of-a-kind in Panama and located in Costa del Este.
At Dream Plaza, the highest and latest standards of construction have been attained. This is a place for innovative thinkers seeking a meeting place where the space and its surroundings promote wellbeing, productivity and harmony with the environment.
The design and location of Dream Plaza makes 360-degree panoramic views of Panama City possible including the Pacific Ocean, green mangroves, Cerro Azul mountains, the capital city's urban landscape and Costa del Este.
Recognized as a green building, the Plaza stands out with Gold-level LEED ® Core & Shell certification.
Dream Plaza is located on Avenida Centenario in the heart of Costa del Este, which has one of the best urban designs in Panama City. Residential areas, corporate offices, supermarkets,restaurants, schools, hotels and the beautiful Felipe Motta Park are within walking distance.
Easy access to downtown and all major routes, as well as 8.7 miles from the Tocumen International Airport.