What does Dream Plaza offer?
The lower level and mezzanine in Dream Plaza have 25 commercial spaces for shops and companies seeking a sophisticated space in a prime location.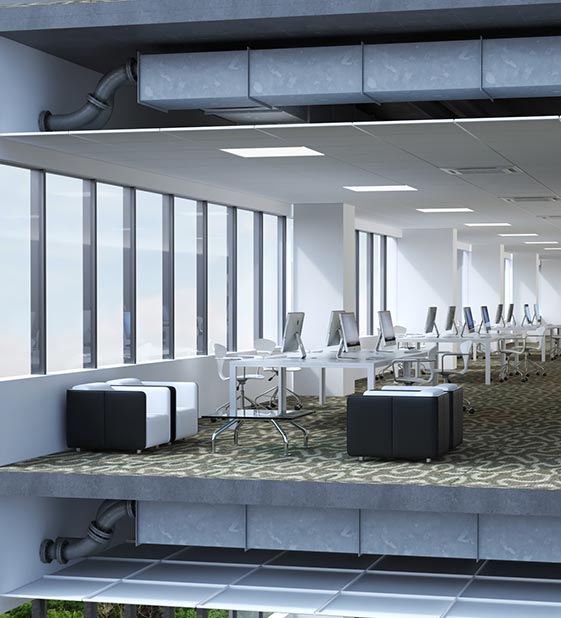 The use of natural light is one of the main features of our project and it is attained in almost every space. Exposure to sunlight has been shown to increase and sustain worker productivity.
In addition, the entire building is illuminated with LED technology, which has numerous advantages for users, such as less environmental pollution, longer lifespan and an 85% energy savings compared with conventional lighting.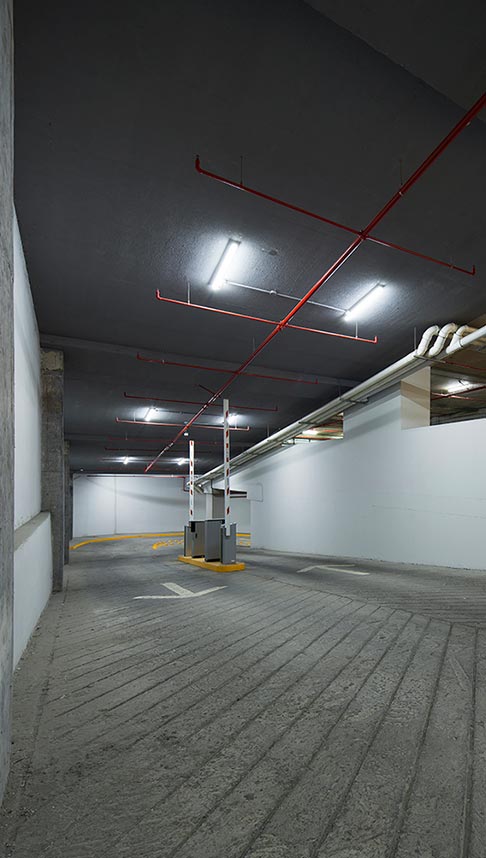 With lanes 7 meters wide and a double access ramp, all transit within the parking deck is convenient, whether entering, exiting or getting around. The parking deck has 170 spaces located in the basement for exclusive use by Dream Plaza clients.
The project has several independent access points.
2 wide ramps for entering/exiting the office parking deck.
An exclusive service road for access to the loading/unloading cargo area.
A boulevard leading to the visitor parking deck.
From the street, a pedestrian
The maintenance of the Dream Plaza is managed directly by the developer, which reduces costs and tenant responsibilities.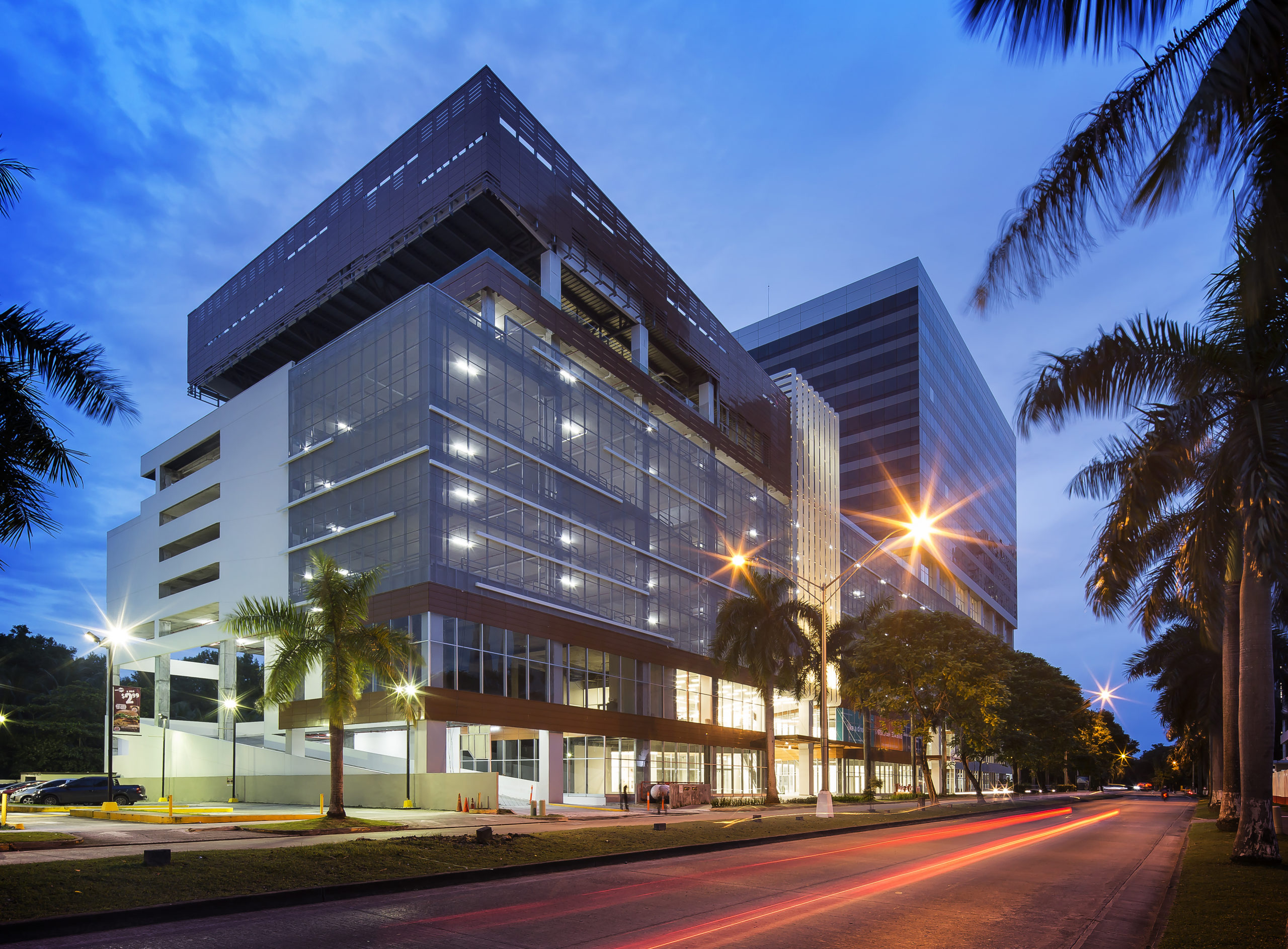 Dream Plaza has high-quality indoor air. The Plaza has three high-efficiency chillers (two working ones, plus a backup that guarantee proper climate control of spaces.
5 fresh air controllers ensure that the air entering spaces is purified, dehumidified and cooled before being distributed throughout the building. This creates an ideal environment for health as well as energy savings
We have an ideal location
One of the most important factors to the success of your retail store is its location. When thinking about location, consider these things:
Are you near other retail stores that will help attract your customer base?
Is it in a high-traffic or high-visibility area?
Is there plenty of parking near your store?
Can customers easily see and access your store entrance?
When scoping out potential retail locations, it's best to first identify which neighbourhoods you see yourself opening up shop. When pinpointing potential neighbourhoods, consider these factors:
Where is your target market?
How much do commercial spaces with your ideal square footage cost in your ideal neighborhoods?
Are there other businesses that fulfill the same niche and target a similar clientele?
Depending on the location, in addition to basic utilities, you may need to pay for lawn maintenance, security, cleaning services and waste disposal services.
Along with the base rent, consider all location-based costs involved when choosing a retail store location.
Who pays for lawn care and security?
Who pays for the upkeep and repair of the heating/air units?
Will you need to do any painting or remodeling to have the location fit your needs?
Will the retailer be responsible for property taxes?
Accessibility, Visibility, and Traffic
There are several aspects retailers should consider along these lines.
How many people walk or drive past the location?
How well is the area served by public transportation?
Can customers and delivery trucks easily get in and out of the parking lot?
Is there adequate parking?
About Dream Plaza
Dream Plaza is a multipurpose shopping plaza, unique in Panama, including commercial space for rent in Costa del Este
Dream Plaza is one-of-a-kind in Panama and located in Costa del Este. The lower level and mezzanine in Dream Plaza have 25 commercial spaces for shops and companies seeking a sophisticated space in a prime location.
At Dream Plaza, the highest and latest standards of construction have been attained. This is commercial space for rent in Costa del Este for innovative thinkers seeking retail space to promote wellbeing, productivity, and harmony with the environment. This is an unbeatable combination within the Panamanian real estate market.
Created with an innovative mindset to revolutionize the real estate market in Panama, with wide and open spaces, natural light and energy efficiency, Dream Plaza is at the cutting-edge of today's market for retail space.
The design and location of Dream Plaza makes 360-degree panoramic views of Panama City possible: including the Pacific Ocean, green mangroves, Cerro Azul mountains, the capital city's urban landscape and Costa del Este.
Dream Plaza is a real estate space designed for cutting-edge corporations, entrepreneurs and professionals. You can book a bulding tour to get to know it personally.
Recognized as a green building, the Plaza stands out with Gold-level LEED ® Core & Shell certification.
Dream Plaza is located on Avenida Centenario in the heart of Costa del Este, which has one of the best urban designs in Panama City. Residential areas, corporate offices, supermarkets, restaurants, schools, hotels and the beautiful Felipe Motta Park are within walking distance. All premises are well-situated near the Avenida Centenario and have spacious dimensions: 18 ft in height and 26.2 ft minimum storefront.
It has easy access to downtown and all major routes, as well as being only 8.7 miles from the Tocumen International Airport.
The lower level and mezzanine in Dream Plaza have 25 commercial spaces for shops and companies seeking a sophisticated space in a prime location.